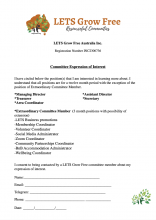 Hi friends
if you are interested in any of these roles or would like to help in other ways
please email us                    growfreeaus@proton.me
November 2023

Hi 👋 Grow Free friends,
You are wonderful and amazing!
Thank you for supporting LETS Grow Free throughout the past year;  some of you have been with us since the inception of LETS Grow Free in August 2022 and we appreciate you so much!
Others joined along the way and we thank you all for trusting that our organisation is a safe and beneficial place to be.